Funcom releases Jewel of the West DLC for Conan Exiles
Press release •
Aug 02, 2018

&nbsp

13:28

&nbsp

UTC
– Jewel of the West Pack is now available on PC, Xbox One, and PlayStation 4, introducing new Aquilonia-themed building pieces, armors, weapons, and decorations –
OSLO, Norway – August 2nd, 2018 – Funcom today released the second DLC for Conan Exiles, the studio's open world survival game which launched in May this year and quickly became the bestselling Funcom title of all time. The DLC, named Jewel of the West, introduces Aquilonia-themed building pieces, weapons, armor, furniture, and more. In Conan lore, Aquilonia is the center of the civilized world and the new content allow players to build homes and monuments in the grand style of this great nation.
Download the new Jewel of the West Pack video and screenshots here:
Official Jewel of the West Pack key art and content collage (FTP)
Official Jewel of the West Pack screenshots (FTP)
For more information about the Jewel of the West Pack, check out the official blog and the Steam store. The DLC is available on PC, Xbox One, and PlayStation 4 at $9.99. In addition to this new DLC, the development team is also hard at work on one of the biggest free updates to the game yet.
"The team is currently working hard on finalizing a massive free update that we're aiming to launch in September," says Creative Director Joel Bylos. "This update will introduce pets and taming, an entirely new gameplay feature. We're also adding a new dungeon, a new religion, a new avatar, and more. This update will be free for all players on all three platforms."
For more information on what the developers are working on, check out the official blog.
Conan Exiles is an open world survival game set in the savage lands of Conan the Barbarian. After a successful Early Access run starting in January 2017, the game launched in full on PC, Xbox One, and PlayStation 4 on May 8th 2018 and became one of Funcom's best-selling and fastest-selling games to date. For more information about the Conan Exiles, visit www.conanexiles.com.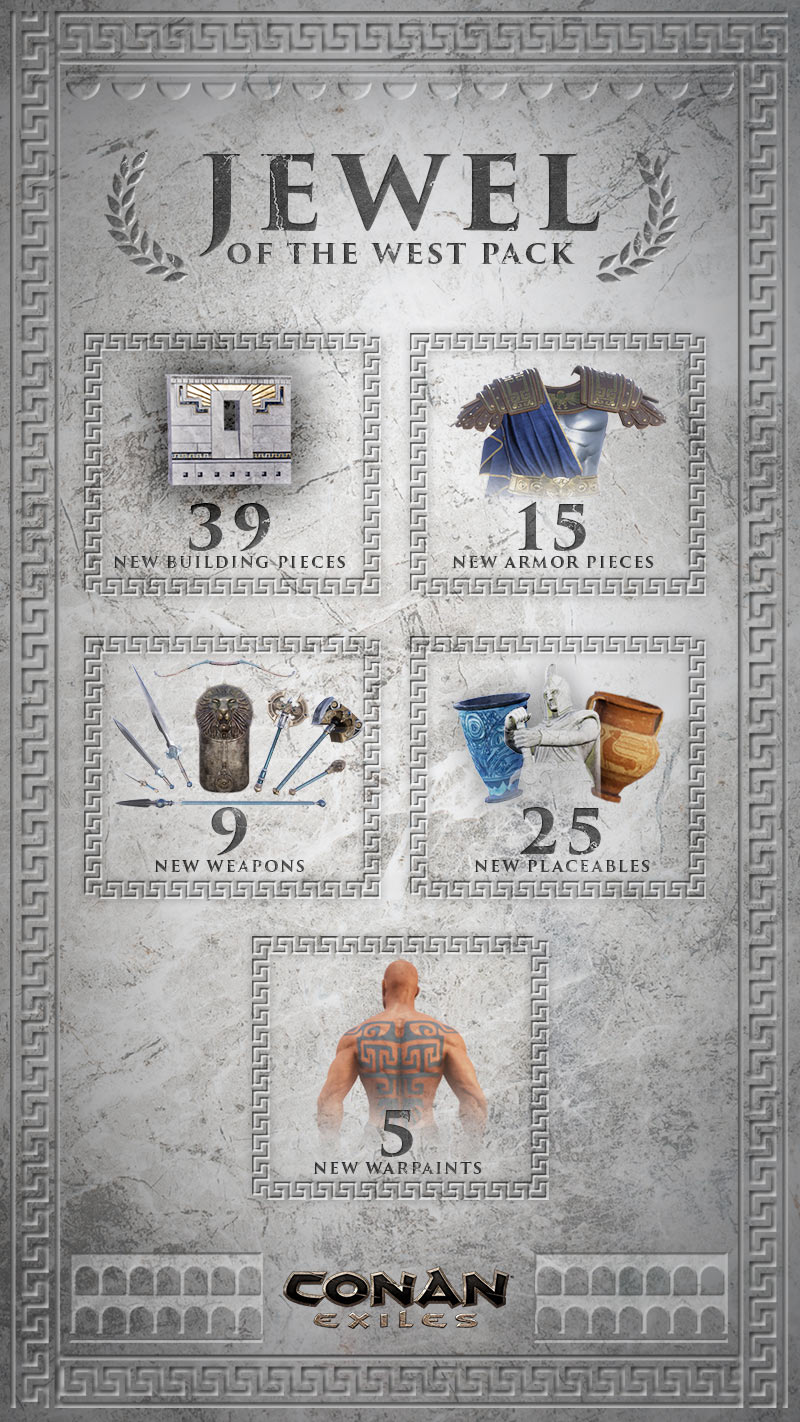 ABOUT FUNCOM - Funcom is an independent developer and publisher of online games for PC and consoles. Funcom has provided outstanding entertainment since 1993 and continues to expand its track-record of more than twenty released games. Titles include 'Conan Exiles', 'Secret World Legends, 'Age of Conan: Hyborian Adventures', 'The Longest Journey', 'Anarchy Online', 'The Park', and 'Dreamfall: The Longest Journey'. For corporate information please visit www.funcom.com. For information about Funcom games visit www.conanexiles.com, www.secretworldlegends.com, www.anarchy-online.com, www.dreamfall.com, www.theparkgame.com, www.conanexiles.com, or www.ageofconan.com. Funcom is listed on the Oslo Stock Exchange under the ticker FUNCOM.
ABOUT CABINET - The Cabinet group consists of Cabinet Entertainment, a tv/film financing and production company, as well as Cabinet Licensing, a consumer products division which manages and develops global entertainment franchises in all forms of media, including motion picture, television, and the gaming, publishing and toy/collectibles industries. Our portfolio consists of well-known brands such as Conan the Barbarian, Kull of Atlantis, Solomon Kane, Mutant Chronicles, Mutant: Year Zero, and Kult.