Conan Exiles Is Now The Best-Selling And Fastest-Selling Game In Funcom History
Press release •
Jul 05, 2018

&nbsp

09:58

&nbsp

UTC
– Conan Exiles surpasses Funcom's previous record of 1.4 million units sold of Age of Conan: Hyborian Adventures in less than half the time–
– Funcom announces new DLC, Jewel of the West, coming early August + Funcom and Spike Chunsoft brings Conan Exiles to Japan on August 23rd –
Oslo, Norway – July5th, 2018 – Funcom announced today that Conan Exiles, the recently launched open world survival game, is now both the best-selling and fastest-selling game in the company's history. Conan Exiles has now surpassed Funcom's previous record-holder, the 2008 massively multiplayer game Age of Conan: Hyborian Adventures, which sold 1.4 million units by the time it went free-to-play three years after its initial release. Kicking off Early Access in January 2017 with full launch in May 2018, Conan Exiles broke this record in less than half that time.
To celebrate this achievement, Funcom today released a new Accolades Trailer for Conan Exiles:
Download the Conan Exiles – Accolades Trailer from Funcom's FTP
Embed the Conan Exiles – Accolades Trailer from Funcom's YouTube channel
After the success of the first DLC, The Imperial East, Funcom is also excited to announce that Jewel of the West, the second DLC for Conan Exiles, will be launching in early August. The downloadable content introduces new Aquilonia-themed building pieces, weapons, armor, furniture, and more. In Conan lore, Aquilonia is the center of the civilized world and its clothing and architecture is inspired by that of the real-world Romans. For more information about this upcoming DLC, check out the official Conan Exiles blog.
"In addition to the Jewel of the West, the team is also hard at work putting together one of our biggest free updates yet," said Creative Director Joel Bylos. "Launching later this quarter, this update will introduce pets and taming to Conan Exiles, allowing players to find and tame anything from camels to panthers and even spiders and then use them to guard their base, carry resources, and more. This update will be free to all players on all platforms."
Conan Exiles is currently available for purchase in several territories worldwide, either digitally or in retail. On August 23rd Conan Exiles will also be released on PlayStation 4 in Japan by Spike Chunsoft and it will be available in both retail stores and digitally on the PlayStation 4 store.
For more information about Conan Exiles, please visit www.conanexiles.com.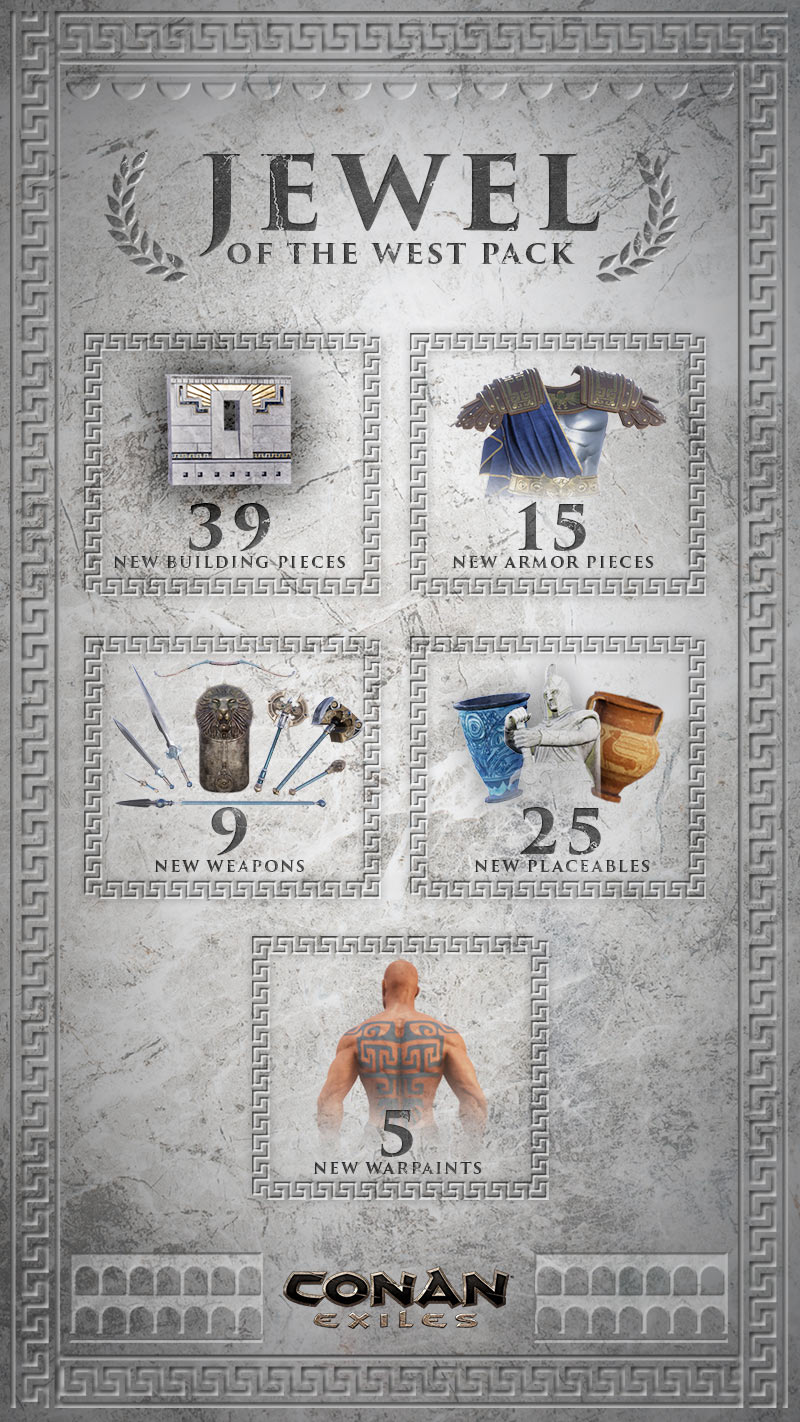 Contacts
Erling Ellingsen
Chief Marketing Officer
Funcom
+47 48867107
erling@funcom.com
ABOUT FUNCOM - Funcom is an independent developer and publisher of online games for PC and consoles. Funcom has provided outstanding entertainment since 1993 and continues to expand its track-record of more than twenty released games. Titles include 'Conan Exiles', 'Secret World Legends, 'Age of Conan: Hyborian Adventures', 'The Longest Journey', 'Anarchy Online', 'The Park', and 'Dreamfall: The Longest Journey'. For corporate information please visit www.funcom.com. For information about Funcom games visit www.conanexiles.com, www.secretworldlegends.com, www.anarchy-online.com, www.dreamfall.com, www.theparkgame.com, www.conanexiles.com, or www.ageofconan.com. Funcom is listed on the Oslo Stock Exchange under the ticker FUNCOM.
ABOUT HEROIC SIGNATURES - Heroic Signatures DA is a joint venture of Cabinet Group LLC and the Funcom Group. Heroic Signatures manages the interactive rights to the extensive Cabinet Group portfolio of properties including Conan the Barbarian, Solomon Kane, and Mutant Chronicles, all of which have been made popular through motion