Oslo, Norway – May 22, 2023 – As Conan Exiles: Age of Sorcery draws to a close, Funcom sounds the drums for the Age of War, the next season of free content updates and paid cosmetics coming to the game on June 22. To herald this new Age, feast your eyes on the bold new art for the game, giving a glimpse of the carnage to come.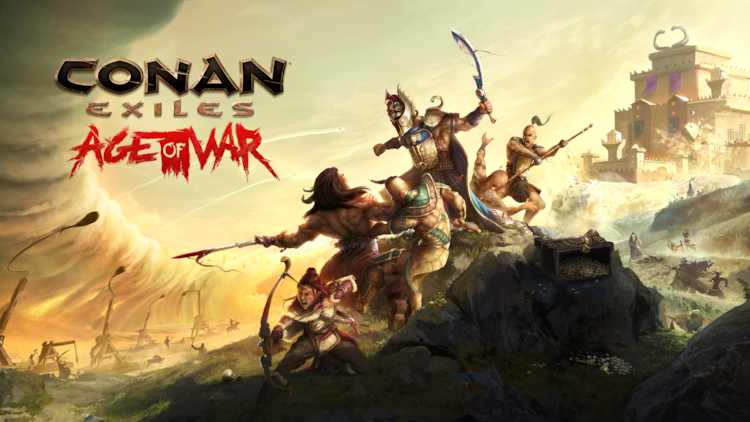 Armed with steel rather than sorcery, an ancient empire marches on the Exiled Lands, hungry for gold. The Age of War narrative spans a full-scale military invasion of the Exiled Lands through three major updates, each accompanied by a Battle Pass overflowing with cosmetics.
In less than a year, Age of Sorcery has added a massive amount of new free content across three major updates, including the sorcery system, building revamp, attributes overhaul, new encounters, golem shaping, new characters and stories, and a huge Journey System redesign. Now, with the Age of War Roadmap, set your eyes on what's to come.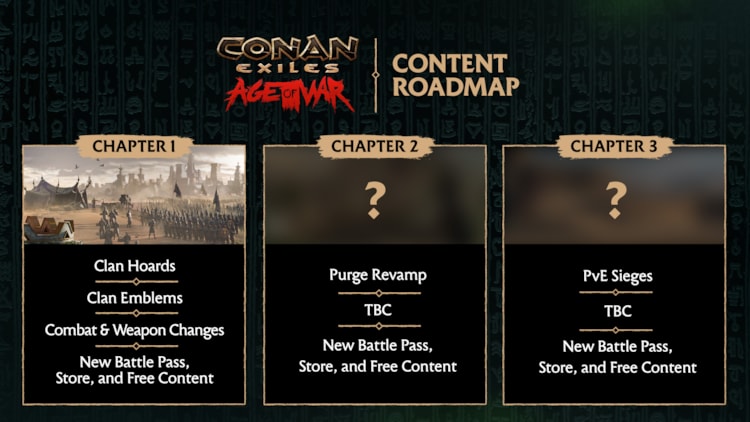 In Age of War – Chapter One, collect treasure from across the lands and display it in your private vault, then create and customize your own clan emblem to display it on banners and shields.
After Age of War – Chapter One, Conan Exiles will see major additions such as improved and expanded purges, recruitable mercenaries, and upgraded enemy AI, finally culminating in a PvE raid where players strike back at the Stygian invasion. These are the biggest features coming in Age of War, but there is a lot more in the works that will be revealed later.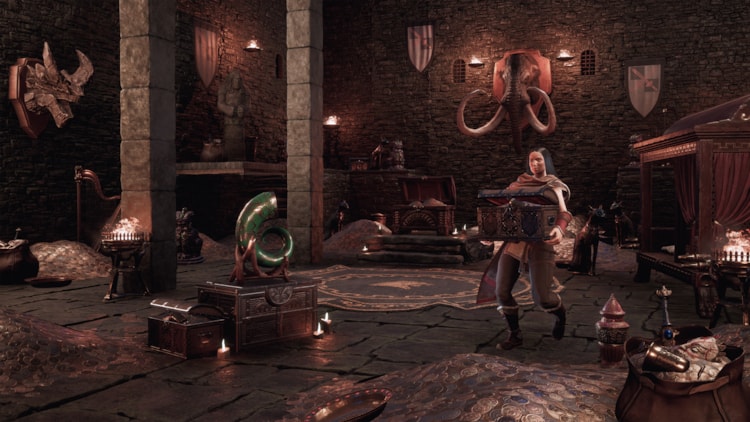 The first chapter of Conan Exiles: Age of War will arrive June 22 on PC, PlayStation 4, Xbox X|S, Xbox One, and Xbox Game Pass.
ABOUT FUNCOM
Funcom is a developer and publisher of online games for PC and consoles. Funcom has provided outstanding entertainment since 1993 and continues to expand its track-record of more than twenty released games. Titles include 'Conan Exiles', 'Secret World Legends, 'Age of Conan: Hyborian Adventures', 'The Longest Journey', 'Anarchy Online', 'The Park', and 'Dreamfall: The Longest Journey'. For corporate information please visit
www.funcom.com
.