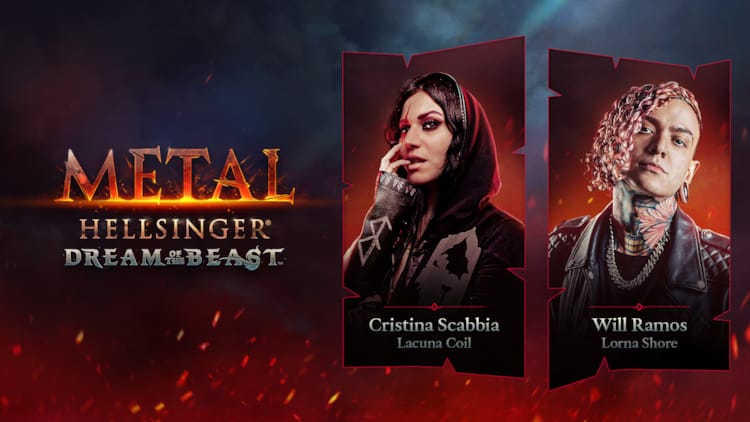 Oslo, Norway – March 7, 2023 – Metal: Hellsinger is the multi-award-winning, critically acclaimed rhythm FPS where you slay hordes of demons to a heavy metal beat. Today, developer The Outsiders and publisher Funcom are proud to announce the first DLC, Dream of the Beast, will arrive on March 29.
To perform two brand-new original songs, we welcome new talent: the soaring powerhouse that is Cristina Scabbia from Lacuna Coil, and the searing demon voice of Will Ramos from Lorna Shore. Players can select these songs from the new Song Selection feature that will arrive in a free update on the same day as Dream of the Beast releases.
On top of the two new songs, Dream of the Beast adds plenty more. Blast through demons in rhythmic bursts of death with The Red Right Hand, the new machine gun, and don one of three sizzling outfits that provide unique gameplay modifiers. With this DLC, players will be able to experience Metal: Hellsinger with a completely different beat and playstyle.
Metal: Hellsinger continues its 97% Overwhelmingly Positive Steam score after also having won The Golden Joystick award for Best Audio, the Tin Pan Alley Game Music Award, The Spawnies award for Best Music, the NAVGTR Awards for Outstanding Song Collection, Outstanding Original Light Mix Score (new IP), Outstanding Game, Music or Performance Based, and finally, being nominated for The D.I.C.E Awards and a BAFTA Award as well as The Game Awards, and The Steam Awards.
On March 29, make the Hells fear the beat with new music, outfits, and an infernal weapon in Dream of the Beast.
ABOUT FUNCOM
Funcom is a developer and publisher of online games for PC and consoles. Funcom has provided outstanding entertainment since 1993 and continues to expand its track-record of more than twenty released games. Titles include 'Conan Exiles', 'Secret World Legends, 'Age of Conan: Hyborian Adventures', 'The Longest Journey', 'Anarchy Online', 'The Park', and 'Dreamfall: The Longest Journey'. For corporate information please visit
www.funcom.com
.
ABOUT THE OUTSIDERS
The Outsiders is a Funcom studio based in Stockholm, Sweden. The Outsiders creates original games at high quality – specializing in first person games with unique gameplay mechanics and AAA-visuals. The team consists of industry veterans from DICE, Avalanche, King, Rovio, Fatshark, Starbreeze, Arrowhead, Goodbye Kansas, Machine Games, Guerilla Games, and many others - a good mix of the best talent from the many fantastic game development schools in Sweden. "We love games and we love making them. We hope that you will enjoy playing our creations!"