Oslo, Norway – October 12, 2023 – Heroic Signatures, a Funcom IP subsidiary, is pleased to give Conan the Barbarian fans a unique opportunity to immerse themselves in the Hyborian Age. In a free new text adventure available directly on the Heroic Signatures website, players can test their wit and courage in an encounter with Conan the Barbarian. Players who succeed in gaining Conan's favor will be awarded with a link where they can sign up for a chance to win a magnificent new full-size poster of the Hyborian Age map, created by talented artist Francesca Baerald.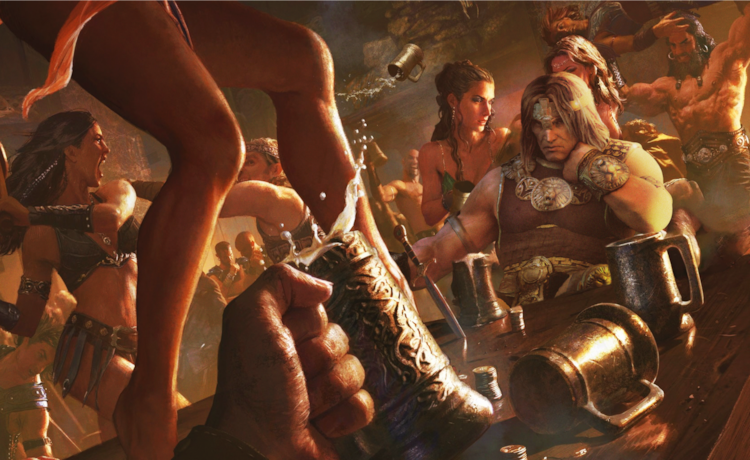 Funcom also recently released Age of War – Chapter 2 for their open world survival game Conan Exiles, a free major update with significant improvements and reworks to game systems like loot and purges. As with each Chapter, it comes with a new Battle Pass brimming with cosmetic armors, weapons, building pieces, and more.

Today's new text adventure is closely tied to Conan Exiles. Inspired by classic Choose Your Own Adventures, it takes place within the confines of the Dusky Coil Inn, a location in Conan Exiles, but lets players type in any action they wish to perform.

Working with developer and writer Lo Terry, Heroic Signatures wish to balance some of the freedoms of AI with the tailored scenarios and characters of Conan's world. While the player can attempt to do whatever they want, odd and frivolous behavior will invite the contempt of Conan himself, and reduce the chances of winning the contest. The game is infused with all of Robert E. Howard's stories, as well as additional lore within the Conan universe, creating a fun experience for anyone seeking to be immersed in the Hyborian Age.

As the official Conan website receives a fresh coat of warpaint, new Conan adventures await everywhere. Play the text adventure and join the competition before issue 3 of the Conan comic book arrives on October 27, as well as the launch of a new monthly series of digital Conan short stories on October 26.

The Conan text adventure is available to play right now on the Heroic Signatures website.
ABOUT FUNCOM
Funcom is a developer and publisher of online games for PC and consoles. Funcom has provided outstanding entertainment since 1993 and continues to expand its track-record of more than twenty released games. Titles include 'Conan Exiles', 'Secret World Legends, 'Age of Conan: Hyborian Adventures', 'The Longest Journey', 'Anarchy Online', 'The Park', and 'Dreamfall: The Longest Journey'. For corporate information please visit
www.funcom.com
.
ABOUT HEROIC SIGNATURES
Originally a joint venture between Funcom and Cabinet Group, Heroic Signatures is a studio with a big intellectual property portfolio, managing and developing global entertainment franchises in all forms of media, including motion picture, television, and the gaming, publishing and toy/collectibles industries. Our portfolio consists of well-known brands such as Conan the Barbarian, Kull of Atlantis, Solomon Kane, Mutant Chronicles, Mutant: Year Zero, and Kult. For more information, please visit
www.heroicsignatures.com
.